Brooke and Jeff's love story began at Wurstfest in New Braunfels, over German beer, sausage and sing alongs on the Comal River. To say it was love at first sight is an understatement, as from that day on they were inseparable.
Since the lovely couple reveled in the way that they met, they felt that it was only fitting to have a Wurstfest or German themed wedding. And, in their untraditional form and to Brooke's mother's dismay, they decided to call it the Wurst Wedding Ever!
Brooke and Jeff's ideas overflowed from everything to themed designer invitations, beer coasters, pretzel bars, strudel, 12 different types of kegged beer, custom bottled beer (made by the couple), German cuisine, German post wedding attire, and the famed S-Bahn Band (headliner at Wurstfest) flown in all the way from Vancouver, Canada; complete with their alpine horn.
The seating design plan was in quintessential Wurstfest style, with a touch of farmhaus elegance. The bride spent two years collecting various brass decor, German steins, and intricate pieces of interest to add to the farm tables, resulting in a unique personal touch.
Style was not the only unique aspect of this wedding; the bride and groom's amazing sense of humor had us laughing constantly during our two years of planning together. For the first look, the bride decided to play a joke on the groom. His reaction was priceless!
S-Bahn Band stole the show as guests literally danced the night away in New Braunfels that night. The chicken even reappeared out of nowhere for some breakdancing and cheers.
Brooke and Jeffrey's send off was complete when they rode away in their Volkswagen bus.
Congratulations, Brooke and Jeff! Thank you for allowing us the honor of being your wedding planners and coordinators. We were overjoyed to be a part of your wedding day, and wish you a lifetime of laughter and joy.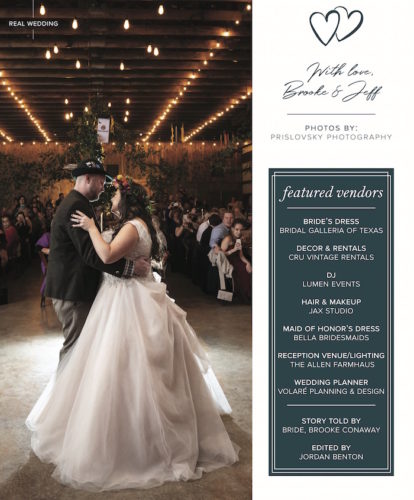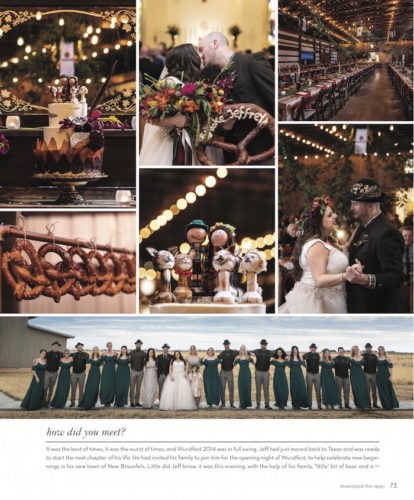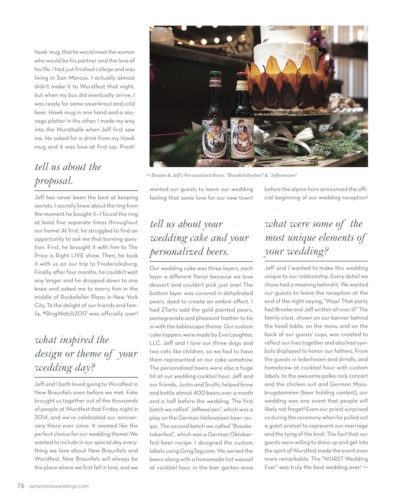 Bridal Gown Alterations | Couture Alterations
Bridal Gown Designer | Morilee by Madeline Gardner
Bridal Gown Shop | Bridal Galleria of Texas
Bride's Reception Attire | Rare Dirndl
Hair & Makeup | Jax Studio Creative
Cake | 2 Tarts Bakery
Catering | Ruth Stone Catering
Ceremony Music & Liturgy | Marianna Underwood; Sts. Peter & Paul Catholic Church
Cinematography | Juliane & Alex Wedding Cinematography
Church | Sts. Peter and Paul Catholic Church 
Cocktail Hour & Reception Entertainment | S-Bahn Band – Vancouver, Canada
Decor | Cat Haus Rentals
Design | Brooke Conaway – Volaré Planning & Design
Reception MC | Lumen Events
Reception Venue | The Allen Farmhaus
Facepainting | Dawn Smith Facepainting
Florals | Foxlove & Grace Flowers
Photography | Daniel Prislovsky Phtography
Photo Booth & Newlywed Transportation | GYPC Wagen
Sound Tech | Diamond Entertainment – Austin
Tent, Stage, Linens, and Placesettings | Marquee Event Group – San Antonio
Vintage Glassware | Cru Rentals