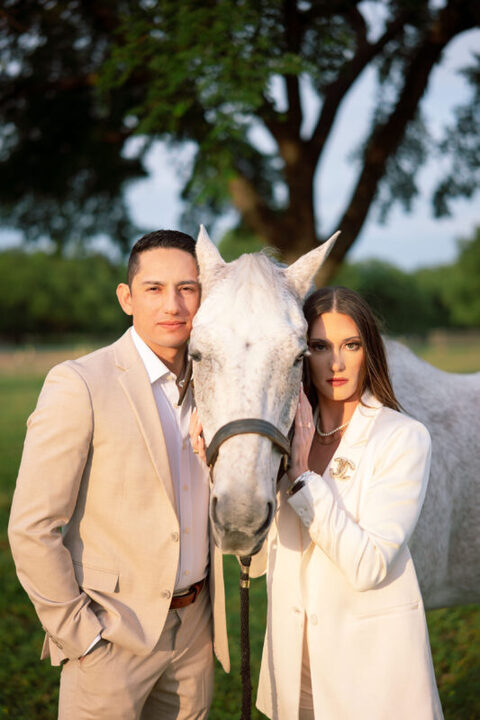 You are finally engaged! It's the moment you have waited for your entire lives, but what do you do after the proposal?
It is perfectly normal to have some apprehension about what to do next and how to navigate these unchartered pre-wedding waters. Miss Manners is here to offer invaluable guidance that will empower you to confidently embark on your engagement journey and make the most of your engagement and wedding experience, while impressing others with your impeccable etiquette along the way.
Share the Big News
Getting engaged is undoubtedly a once in a lifetime, cherished memory worth sharing, however your parents, close family members, and friends will want the honor of knowing before the rest of the world. As tempting as it may be to post those amazing pictures of your partner on one knee or him twirling you in the air after you said "yes!", breaking the news on social media is impersonal and should happen last. Prioritize sharing the exciting news with your closest family and friends directly. After the proposal, make a few phone calls or visit family and friends in person to share this joyous announcement. Once you have told all the important people in your lives, then sharing the best news of your lives on social media is perfectly acceptable.
Discuss Budget
Rest assured, initiating a conversation on budget early on is completely appropriate and does not violate any wedding etiquette. In fact, postponing this discussion often leads to miscommunication down the line. As you delve into the budget discussion, you may need to engage in a back-and-forth dialogue to determine the appropriate number of guests to invite. While it is traditionally the responsibility of the bride's family to cover wedding expenses, oftentimes  both families wish to contribute. It's advisable for the couple to sit down with both families and have an open, transparent discussion about budget allocations to prevent any hurt feelings or potential issues from arising. You will thank us later.
Hire a Wedding Planner
Partnering with an experienced and reputable wedding planner will ensure that you not only get to enjoy your engagement, but also have a successful and joyful wedding experience. In fact, your wedding planner should be the first vendor you hire. Take your time when searching for the perfect fit planner, as you will be building a relationship with that person for the entirety of your engagement; they will be your new BFF and ultimately responsible for your wedding experience. If you hire us, this is what you can expect:
Expertise & Etiquette
We are professionals who have extensive experience in planning weddings. We possess valuable insights, industry connections, and knowledge of the best vendors, creatives, and venues. By hiring us early on, you can tap into our expertise and benefit from our sincere guidance on EVERYTHING from where to shop for a wedding gown to proper save-the-date or wedding invitation verbiage. This isn't our first rodeo! Here at VOLARE, we have a tried and true wedding planning process that works EVERY. SINGLE. TIME. We guide your through each phase and allow for breaks for you to stop and smell the roses, study for the bar, or take a pre-wedding holiday.
More Confidence. Less Stress.
Planning a wedding can be overwhelming, especially when juggling work, family, and other commitments. Having a wedding planner allows you to alleviate much of the planning burden, giving yourselves the freedom to enjoy your engagement without ever feeling too overwhelmed or anxious. Instead, you will be a confident couple knowing that you and your wedding planner have everything under control.
Budget Management
We take budgets seriously. We pride ourselves in providing an immense value to our clients, as well as being a responsible steward of your investment. We also have access to industry-only rates and preferred vendor discounts that you would likely not be able to access on your own. Furthermore, we will negotiate with vendors on your behalf, all of which allow us to proudly pay for ourselves. Based on your preferences and expectations, we will help you set a realistic budget and provide recommendations on properly allocating funds.
Venue and Vendor Availability
Popular wedding venues and sought-after vendors often get booked well in advance. By hiring a wedding planner early, you increase your chances of securing your ideal venue and preferred vendor choices. Also, an excellent wedding planner will personalize your vision and assist you in booking the vendors that they believe will make your vision come to fruition.
Personalized Vision
A wedding planner is a valuable asset, because she is completely invested in you and your wedding experience. Your personal relationship with her is vital, as she takes the time to understand your preferences, style, and vision for your special day. By hiring us at the beginning of the process, we are able to shape and execute a wedding that truly reflects your personalities and dearest wishes.
Comprehensive Timeline
Wedding planners provide ideal timelines and detailed checklists, ensuring that you stay on track with planning milestones. Also, we understand how photography and your wedding day should coincide. Hiring us from the beginning, allows us to formulate the best timeline for your day, while allowing ample time for transitions.
Crisis Management
Even with meticulous planning, unexpected challenges can arise during the wedding preparation process. We are skilled in handling unforeseen situations and can act quickly to find solutions, allowing you to enjoy your engagement and wedding day stress-free.
Guest Accommodations
If you plan to have guests traveling from out of town, we can assist in arranging accommodations and transportation options, ensuring that your guests are well taken care of and have a smooth experience.
Focus on the Relationship
While we love planning the intricate details that make your wedding unique, they should in no way take over your lives. Remain focused on the reasons you are engaged. Make time for one another, go on dates, and have conversations about subjects other than "The Wedding". You may even consider pre-marital counseling with your priest or minister. Remember, your engagement is the foundation of your future marriage and beautiful life that you are building together.
Photography | Hey Beloved Photography