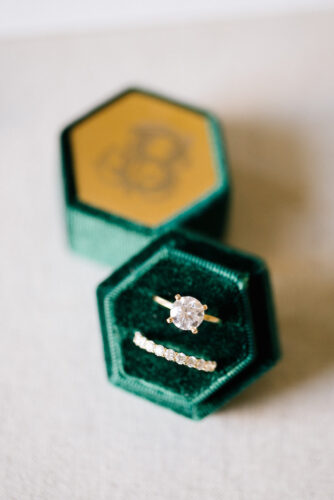 Congratulations on your engagement!
This is such an exciting time filled with many things to accomplish. To ensure your guests receive all the necessary information about your wedding, it is recommended to create a wedding website before sending out save the date cards. Your wedding website should include all the relevant details about your wedding, as well as a functional link to your wedding gift registry. Here are some general guidelines to follow, courtesy of Miss Manners:
Don't Announce Where You are Registered

It is considered impolite to announce where you are registered. Instead, once your registry is established, share the information with your close family, friends, and members of the wedding party and allow them to spread the word.
If someone asks about your registry, it is acceptable to tell them. However, it is inappropriate to include registry information on your save the date cards or wedding invitations. If you wish to include registry information, it is recommended to add it to your wedding website, but ensure that it is on a separate page from the main wedding information. Additionally, make sure that guests have to click down a level to access registry details.
Do Choose Items Priced at Various Levels

It is important to offer a wide range of gift options on your registry that vary in style and in price. Guests typically spend between $100-$300 on wedding and shower gifts, but it's thoughtful to provide options below $100 as well. It is also acceptable to include gifts priced above $300. Remember to regularly review your registry to ensure that there is a diverse selection of prices available for your guests to choose from.
Do Complete Your Registry in Advance

We recommend starting your wedding registry at least six months prior to your wedding date or when you send out your save the date cards. This allows your guests plenty of time to purchase gifts for both your wedding and any pre-wedding showers you may have planned.
Don't Ask for Money

While it is generally not considered proper etiquette to directly ask for money as a wedding gift, financial registries provide a convenient alternative. Platforms like Honeyfund.com or partnering with a travel agency allow couples to register for their honeymoon, and some banks even offer programs for guests to contribute to a dedicated account for a home down payment.
It's important to keep track of all monetary gifts received and to promptly send thank-you notes to express your appreciation. In some cultures, receiving money as a wedding gift is customary.
Do Display Wedding Gifts at Home

Traditionally, it is customary to showcase your wedding gifts in a prominent location in your home, such as the dining room, to share with close friends and visitors. As per Emily Post's guidelines, wedding presents should be sent in advance so they can be unwrapped and displayed in the bride's home "to show appreciation for people's kindness, not to boast."
Do Review Your Registry

To stay on top of your wedding registry and keep track of the gifts received, it's advisable to review it every few weeks, especially as the wedding date draws near. This will also help you to write timely thank-you notes for the gifts received. Ideally, you should acknowledge a gift as soon as you receive it, with a note written the same day or within two weeks. In case you fall behind during the busy pre-wedding period, aim to send a thank-you note as soon as possible, but no later than two months after the wedding.
Photo Credit | Virginia Ann Photography