Congratulations! You are finally engaged and ready to start planning your wedding. Before sending out save the date cards, it is important to develop a wedding website to include all of the wedding details, as well as working links to your wedding gift registry.
Here are a few tips to selecting a great registry for your wedding day: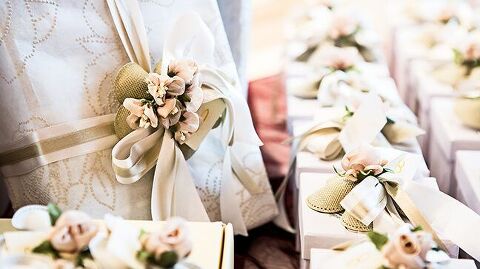 Don't announce where you are registered. Once you have registered, give the information to immediate family, very close friends, and wedding party, and allow them to spread the word. If you are asked where you have registered, it is perfectly fine to tell, but it is not proper to include registry information within a save the date card or in a wedding invitation. Registry information may be included on a wedding website, as long as the actual name of the store is not included on the same layer as the main wedding information. Organize your website so that guests must click down one level to locate registry details.
Do choose items that priced at various levels. It is important to register for gifts that are priced at various levels. Most guests will spend in the $100-$200 range for wedding and shower gifts, however it is polite to offer several gift purchasing options that are below $100 as well. At the same time, it is perfectly acceptable to register for gifts that are priced above $200. Remember to check your registry often to make sure that gifts of all price ranges are available for purchase at all times.
Do complete your registry six months before the wedding. It is ideal to have the registry completed when save the date cards are mailed. This will give guests time to purchase gifts for the big day and also for your shower.
Don't ask for money. While it's inappropriate to ask for money directly, financial registries have made this less awkward by allowing couples to register for their honeymoon through a travel agency or an online service such as TheHoneymoon.com. Some banks have programs that allow couples to establish a special account to which guests may give money earmarked for a down payment on a home. In many cultures, it is customary to receive money as a wedding gift instead of an actual gift. Make sure to keep track of amounts that are gifted to you and do not forget to write prompt thank you notes for these monetary gifts.
Do display your gifts in a central location within your home, such as your dining room, to share with your intimate friends and visitors. Emily Post's book states that wedding presents should be sent ahead of time so they can be unwrapped and displayed in the bride's home "to show them off in a pleasing manner, not to brag but to show appreciation of people's kindness".
Do review your registry every few weeks, and more frequently as the wedding approaches. Use your updated registry to help you keep up with your thank you notes. Ideally, you should acknowledge every present immediately; writing a note the day you receive it is best, but sending it within two weeks is also acceptable. Of course, the period surrounding your wedding is a busy time; if you fall behind, just make every effort to send a thank you as soon as you can, but no later than two months after the wedding.